What Can I Put in my Checked Luggage?
Checked luggage refers to luggage given to the airline staff when checking in. This luggage will be delivered to the airplane, stowed in the cargo section and inaccessible during the flight. Travel plans and luggage needs differ from one traveller to the next so we have not included a suggested packing list for checked luggage, but rather have a list of items to avoid packing in the first place. You will also find some valuable packing tips at the bottom of this page as well.

Handling of Your Checked Luggage
When packing your checked luggage, always consider the risks involved in checked luggage. Once your luggage has been checked, you will likely not see it again until it arrives on the luggage carousel at your final destination.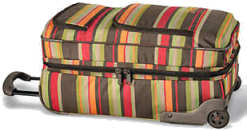 While your checked luggage is in transit, it may be at risk for being delayed, lost, or damaged. For these reasons, we would like to remind you to try and pack all your valuables with you in your carry-on luggage. Also note that conditions within the cargo hold of an airplane may be less optimal and your luggage may be subjected to freezing, low pressure, and rough movement.
All checked luggage is also x-rayed, although this usually occurs behind the counter. Some airports will require a scan of any luggage to be checked prior to check-in and then your luggage is tagged with a security strap.

Prohibited Items in Your Checked Luggage
Some things were never meant to fly! These items cannot be packed in your checked luggage and cannot be carried in your carry-on. If you need any of these materials at your destination then discuss this with your airline or inquire with a courier company regarding transport of dangerous goods. The prohibited list includes:
Explosives
Most flammable items
Gases and pressurized items
Oxidizers
Poisons
Infectious materials
Corrosives
Organics
Radioactive materials
Magnetic materials
Flame torches

Items Usually Permitted in Your Checked Luggage
Some items are allowed to be carried on an airplane in your checked luggage only. Larger or heavier items (usually sporting goods), often carry a surcharge. Inquire with your airline for specifics on packing larger or heaver items (e.g., requirements for shipping bicycles). This list includes:
Sporting Goods (Baseball bats, Hockey Sticks, Bows, Arrows, Skis, Poles, Golf Clubs, Pool Cues, Surf Boards)
Knifes (Cutting instruments of any sort)
Firearms and Ammunition (rules differ from country-to-country, check locally)
Tools (power tools and larger hand tools)

Tips for Your Checked Luggage
Smart travelers know all about arriving stress-free and that includes reducing the chance of your luggage taking a trip of its own. We recommend the following luggage tips:
Avoid purchasing black luggage resembling most other luggage. It is a lot easier to recognize a brightly coloured bag over a generic black suitcase.
Are you travelling in a group of two or more with two or more pieces of luggage? Consider putting half of your clothes in the second piece of luggage. If only one piece of luggage arrives at the final destination then both of you will have clothing to last a few days while you wait for the second piece of luggage to catch up to you.
Always label both the inside and outside of your luggage. Do not rely on the little labels provided by the airline and instead get yourself a decent luggage tag or write your details right on the bag with a felt pen. Inside your bag place your home address, mobile phone number, and the address of where you will be staying for the next few nights.
If travelling with a backpack or rucksack, sometimes airlines will pack your bag inside a clear plastic bag to reduce straps being caught on conveyor belts. We at IHateTaxis.com do not recommend this, but do recommend that you ask the airline to place your bag inside a tray at check-in. We have found that plastic bags tend to be tagged as 'special luggage' and usually are delayed in arriving between connecting flights or at your final destination.






Written by Steve Romaine






Previous:
What Can I Take in my Checked Luggage?
Introduction:
What Can I Take on the Plane?