While one way car rental and car hires is usually more costly than returning your rental to the place of pick-up, they do come with many of their own benefits. A cheap one way car rental can work out more economical than a flight to the same destination and you get to see the surrounding countryside as part of your trip. You are also open to greater flexibility and many more options on your travel itinerary.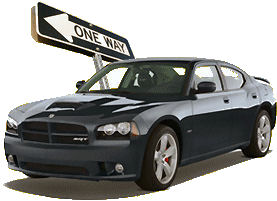 Many travellers will use a one way car rental as part of their journey when purchased with an open-jaw airfare so that they may start at one location and travel to their final destination over several days to weeks. This avoids a long drive back to the starting location.
Due to the expense of fetching a car at an alternative location, most rental companies tend to charge a premium for the privilege. A one way car rental is definitely the way to go if you need options and flexibility on your journey and can justify the extra expense, especially if it would mean spending several extra days of your vacation just driving back to the starting location.
Depending on the reason for your one way rental car or the type of vehicle you need, many car rental deals are available. It is always worth asking be a car rental discount before you book. Specials are dependent on the season, vehicle, drop off area and more, so for the best deals check out the
IHateTaxis.com airport car rental
booking tool for the best deals with one way car rental companies. Cheap one way car rentals can often be found at the major car hire agencies and can be booked, for destinations around the world, using the
IHateTaxis.com one way car rental booking tool
.