Welcome to the IHateTaxis.com airport car rental advice page. We have put together some information to help you with finding a cheap Airport Car Rental or cheap Airport Car Hire.
Stress-Free Car Rental/Hire Information
On any of our destination pages, you will find a car rental icon on the transportation bar. Clicking on this icon will bring you to our car rental and car hire page for that destination. IHateTaxis.com provides some general information on renting a car at the airport, including: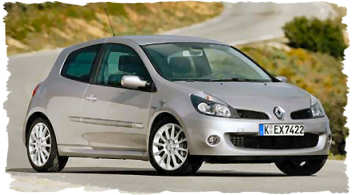 Driving side (right or left)
Which companies offer car rental services at the airport and/or nearby the airport
Where to find the car rental companies either at the airport or nearby, including if you need to take a shuttle to their location
If vehicles are automatic transmission, manual transmission, or a mix of both
What driving stress you can expect in the city
What licensing requirements are (your local drivers' license and/or an International Driving Permit)
If there are any restrictions or additional costs for younger drivers
If we at IHateTaxis.com recommend renting a car at the destination
And on select destinations, we list the current prices for gas or petrol, so you will know the price of fuel for your car
Here are some other items to consider when renting or hiring a car at your destination:

Booster Seats and Baby Seats
If travelling with children, consider either renting or bringing your own seat. Many of the car rental locations do provide booster seats for children, although there will be an additional daily charge for this.
GPS
If you are unfamiliar with the destination, definitely consider either bringing your own GPS or renting one. If you do bring your own, make sure that you have the necessary maps for the destination loaded into the GPS.

Car Rental Insurance
Car rental agencies will offer you both collision damage waiver (CDW) and loss damage waiver (LDW). CDW covers you in the event of a collision whereas the LDW covers any loss to the rental agency. We recommend both, but most people already have the necessary coverage either on their credit card (if the rental was paid in full using the credit card) or on their existing at-home car insurance policy. Make sure to check with your credit card or car insurance company prior to leaving home to see if you have the necessary coverage and any limitations of this coverage (in the US, many car insurance companies do not offer LDW coverage, but it does depend on which state you live in). You will likely want to bring a copy of your credit card coverage or your home car insurance policy should the rental agency ask for confirmation of coverage.
Pre-Paid Fuel
Some car rental agencies offer a pre-paid fuel option. You pre-purchase a full tank of fuel at a discounted price and then when you return the vehicle, you do not have to worry about re-fueling and you have received a discount on the market price of the fuel. If you like the idea and convenience of not having to visit the gas or petrol station at the end of your rental period, then this might be a good idea. But unless you plan on using up the entire tank of fuel prior to returning the vehicle, this is a more expensive option as you have now purchased excess fuel that cannot be placed in the tank of the car.
Licenses and International Driving Permits
Make sure to bring your driver's license with you. If you are renting somewhere else in the world were the language is different than your home language, then you may need to purchase an International Driving Permit (IDP), which is a translation of your license into the local language. The IDP is usually slightly larger than a couple of passport pages and must be carried with your local driver's license to be valid. If an IDP is required, you may be able to purchase this at home (e.g., the AAA in the U.S. sells them) or purchase one at the desk of the car rental agency.
Car Rental Upgrades
Complimentary upgrades sound great and often rental agencies will offer them to you as they are short on the more popular compact and economical cars. But the upgrades come at a price to you -- more fuel at the pump. So be careful of the "free upgrade", unless of course the larger vehicle will truly enhance your rental experience.

Extra Drivers
Who will be driving the vehicle? Some agencies allow you to add additional drivers to the rental contract and this sometimes is free and sometimes this incurs an additional daily charge for each driver. Carefully consider this charge for additional drivers since if someone drives the car that is not listed on the rental contract then any accidents, damages, or tickets incurred by them will likely not be covered by insurance and you could end up paying a lot more than the additional driver charge.
Vehicle Inspection
Ensure that you inspect the vehicle before it is taken off the lot. Usually rental agencies will either walk through the inspection with you or give you a form and you do the inspection yourself and hand the completed form to an attendant. Make sure to mark any dents, scratches, or other concerns on this form, otherwise you might find yourself paying for something that you didn't do.

Usage Restrictions
There are likely to be some usage restrictions in your contract and it is in your best interest to read these before driving away. Typical restrictions include usage on dirt roads, out of country, and so on. If you are caught violating these restrictions and the vehicle is damaged, then you might have a costly bill to pay that is not covered by your insurance. Some agencies allow you to remove some of these restrictions with a purchase of an add-on.

Break Downs
Most major rental companies provide roadside assistance. Make sure to review your contact for this information or ask the agency before leaving.
Damages
If you are involved in an accident or if your vehicle is damaged, make sure to review your contract. Most agencies will require you to visit their rental office to complete an accident report. Many agencies will also require a police report and usually this will be to your advantage if you are confident you were not at fault or if your vehicle was vandalized or stolen.
Return on Time
Most agencies specify a return time in their contract. Make sure to return on time as even a couple hours late could incur a full extra day charge.
Young Drivers
Most agencies restrict rentals to those aged 25 or greater. If you are younger than 25, make sure to ask if you can rent a car as some agencies do allow this, but likely with a surcharge on the rental contract.

Finding an Airport Car Rental
Did you know that you can book cars on
Cars.IHateTaxis.com
anytime? We offer a handy tool to make booking your car rental simple no matter where you are in the world. Airport car rentals are a great way of ensuring that you have independence with a reliable mode of transport once you reach your destination. If you want to explore the destination on your own time without restraints imposed by public transit timetables or tour operating times then renting or hiring a car from the airport is a great transport option. If you are from Canada or the U.S.A., typically you will refer to this as a "Car Rental", whereas elsewhere in the world this is usually referred to as "Car Hire".
On the right of the car rental page, you will find the IHateTaxis.com car booking interface. We offer a competitive search engine so that you can find the best rates from several car providers at your destination. IHateTaxis.com offers rates from:
Avis




Alamo




Budget




Dollar




Enterprise

Europcar




First




Fox




Hertz




National

Payless




Thrifty




Sixt



Plus many other local providers...
Written by
Todd Romaine