This is a tough question to answer and will depend a lot on the availability of ATM machines plus any restrictions on the withdrawal limit, imposed by either the ATM itself or your bank. So we do recommend the following ahead of traveling:
We usually assess the amount of money we will initially need from the airport plus a few days, but it all depends on your circumstances. So give this some thought prior to visiting an ATM in the airport and know approximately what amount you will try and withdraw when you arrive. You will likely need to think about this in your home currency and then convert it to the currency that is in use in the country you are going to visit.
If given the choice, we recommend visiting an ATM within the airport secure area. This could include in the baggage and customs hall or next to the gates. This area is always more secure than outside and you have time to study the currency or split it up between travel companions or between your wallet and money belt. If you need to visit an ATM outside the secure area, then there are likely touts and others watching you and you will feel rushed.
This is another little secret that we recommend when traveling, especially if there even is a remote chance that you will need to visit a currency exchange location. Create a little sticker or post-it note with the exchange rates of the country you are visiting it. For example, if you were visiting Botswana, you might make a little note up that has the rates between the Botswana Pula and both the US Dollar and South African Rand. If at some point during your travels you needed to use the services of a currency exchange, then you know the approximate rates and can gage if the rates offered are poor or fair. This note will also allow you to gage any back-conversion that you might need to do at the end of your trip.
Use our handy currency exchange tool to figure out foreign rates and make your own passport sticker!
Sometimes you do have to use currency exchange locations, but it is always best to shop around. If there's only a couple in the airport, then likely the rates will not be very good and it is best to change only a little money. Usually lots of different exchange locations means competition and good rates.
You always get better rates for major currencies. Almost always the US Dollar exchange rate will be best, with the possible exceptions for Euros. If you need to change money then use either of these two currencies. Anything else, including Yen, British Pounds, Canadian Dollars, Australian Dollars, etc will fetch an inferior rate. Anything even more obscure will not be worth changing, so make sure that if you are going to change to have US Dollars.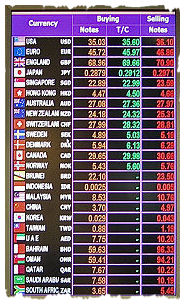 Next, and very important: crisp new US Dollars are the best. Change places are used to people trying to launder money through them, so make sure that you have nice bills with you. If you are obtaining US Dollars before your trip then spend the time going though each and every bill looking for tears, age, writing, or anything else and don't accept it. Nothing sucks more than having a USD 20 that you carry from home all over South America for 6 weeks and being unable to use it. Crappy bills are treated like counterfeit, so best to avoid them from the beginning.
Most exchange places have 'buy' and 'sell' rates. You are either
selling
your US Dollars or
buying
the local currency. But there's also an undisclosed commission. So shopping around is one thing, but the exchange place with the best posted rate may have the highest commission. ASK what their commission rate is before deciding to change money -- the common answers are "included in posted rates", "A flat fee", or "A percentage". Flat-fee commissions are high for small exchanges, but might be worth-while for big exchanges. Sometimes there is a different rate for notes or Travelers' Cheques/Checks (T/C).
The image to the right shows some exchange rates for Thailand Baht.
At the end of the trip, you might want to
buy
US Dollars to get rid of any remaining local currency. Again the same rules apply, but make sure that you have paid any departure tax first! Sometimes you can get lucky and talk to a fellow traveler who has just arrived and you can do you own little exchange.